There are flights from Ottawa to Taipei, Taiwan available on United Airlines from September all the way to December 2016, for $776.00 CAD roundtrip including taxes. 
This is 40% below the typical best roundtrip price from Ottawa to Taiwan.
***Remember Gringos, most legs of these flights are run by the Star Alliance (Copa, United or Air Canada). There are valuable 
aeroplan
 points to be had from these flights. Learn how to maximize your travels in Gringos On The Run article Affording To 
Travel In Your 20s & 30s.
Availability for travel
September to December 2016 
September and October are ideal months to visit Taiwan.
How to find and book these flights
1. Start by going to Google Flights
Google Flights: Ottawa to Taipei
Click on the departure date box to open up the calendar view and look for cheapest date combinations.
2. Go to Flight Network
and search for a flight from Toronto to Taipei, Taiwan (TPE). 
Use the same dates you found on Google Flights.
Screenshot from FlightNetwork.com (before the promo code is applied)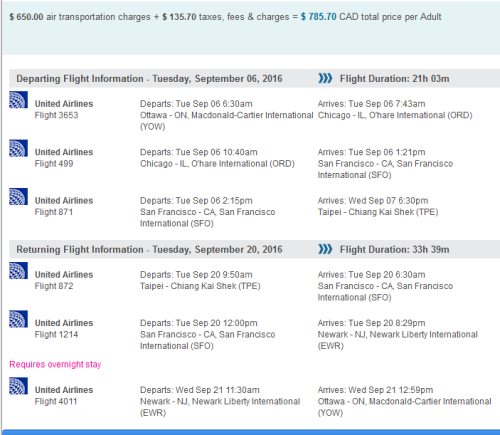 Note: The first search result on Flight Network may not be 2-stop flights both ways. It might be anywhere from the 4th one down the list, to the 10th one.
Flight Network promo code
You can bring the price down another $10 CAD once you get to Flight Network by using the promo code: 3P10OFF321 
You'll find the spot to enter the promo code on the passenger details page (after you've selected the flight). It can be difficult to find. 
Here's a screenshot of where to enter it: (look near the bottom)
http://s17.postimg.org/ee0f9z4v3/Clipboard01.jpg
Curated by Jesse Delgrosse @gringosontherun. Follow Jesse's adventures @jdelgrosse and make sure to "LIKE" our Facebook and Instagram pages!!
Originally posted by Chris Myden @yowdeals.com