They're back! Ottawa to Osaka/Kyoto, Japan are once again available on United Airlines for $532.00 CAD roundtrip including taxes.
Unfortunately the flights have an overnight layover in Washington, DC or Newark, but for the price it can be worth it to get a cheap airport hotel on Hotwire.com etc.
***Remember Gringos, most legs of these flights are run by the Star Alliance (Copa, United or Air Canada). There are valuable aeroplan points to be had from these flights. Learn how to maximize your travels in Gringos On The Run article Affording To Travel In Your 20s & 30s.
Availability for travel
October, November, and early December 2016 
February and March 2017
How to find and book this deal
1. Start with this Google Flights search...
Google Flights search: Ottawa to Osaka, Japan 
2. Click on the departure date box to open up the calendar view and try other dates.
Look for the flights that are showing as either $534.00 CAD roundtrip including taxes.
You may need to click on a departure date before seeing the $534.00 flights.
You can try clicking on one of the following departure dates to bring up the $534.00 flights: 
[2016]
Oct 5, 8
Oct 10, 11, 12, 15
Oct 26, 28, 29
Nov 12, 13, 30
Dec 1, 2 
[2017]
Jan 27, 28
Feb 5
Feb 22, 23, 25, 28
Mar 1, 2
Mar 15 
You may also notice a large number of dates that are showing up as $687.00 Sometimes, when you select these $688.00 dates, the price will drop on Google Flights, down to $532.00 CAD.
These can be a bit tricky to find/book, especially as the demand gobbles them up. Google Flights may show $534.00, until you actually select the flights, and the price will jump (usually an indication that one of the dates selected has sold out). 
3. Select your flights in Google Flights.
4. Next, click through from Google Flights to the United website for booking. 
Screenshot from United Airlines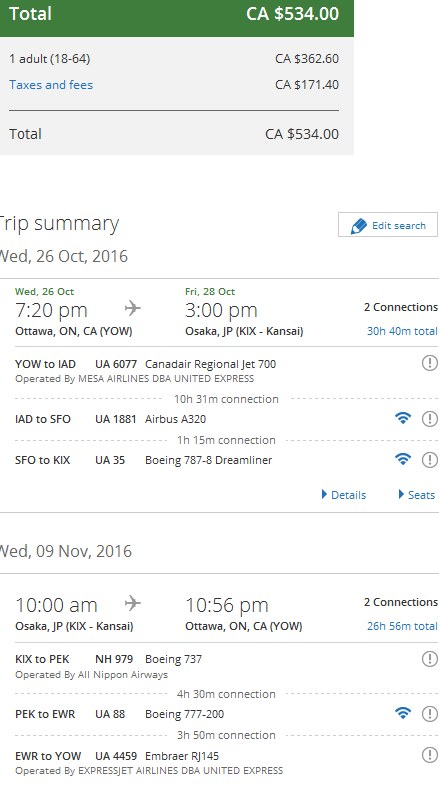 Sometimes you may receive an error message when you get to the United website (or you are just taken to the front page).
I've found that by trying again it sometimes works. In the past, people have reported that this deal is easier to book via Google Flights from a mobile device as opposed to a desktop or laptop computer.
You may want to keeping try different dates. Good luck Gringos!
Curated by Jesse Delgrosse @gringosontherun. Follow Jesse's adventures @jdelgrosse and make sure to "LIKE" our Facebook and Instagram pages for more crazy travel deals like this one!!
Originally posted by Chris Myden @yuldeals.com