There are some amazing airfares available from Ottawa that allow you to visit both Hong Kong AND Beijing, China for just $590.00 CAD roundtrip including taxes. The flight between Hong Kong and Beijing is included.
Availability for travel
September to early December 2016
***Remember Gringos, most legs of these flights are run by the Star Alliance (Copa, United or Air Canada). There are valuable 
aeroplan
 points to be had from these flights. Learn how to maximize your travels in Gringos On The Run article Affording To 
Travel In Your 20s & 30s.
How to find and book this deal
1. Go to FlightHub
2. Click on the 'Multiple City' option
3. Search for the following:
Ottawa to Hong Kong
Hong Kong to Beijing, China
Beijing, China to Ottawa 
As for the dates to use, try one of the following examples that allows you to visit each destination for a week: 
Sep 21 to Sep 28 to Oct 05
Oct 26 to Nov 01 to Nov 09
Nov 02 to Nov 09 to Nov 16
Nov 09 to Nov 16 to Nov 23
Nov 16 to Nov 23 to Nov 30
Nov 23 to Nov 30 to Dec 07
Screenshot from FlightHub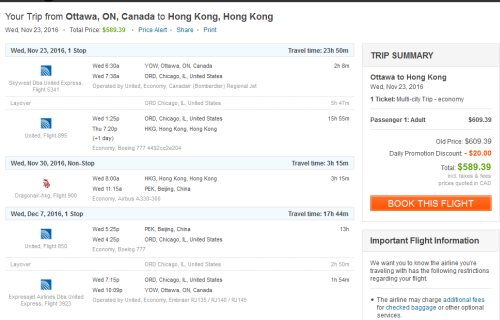 For longer trips you can try mixing and matching the departure and return dates from the examples above.
Curated by Jesse Delgrosse @gringosontherun. Follow Jesse's adventures @jdelgrosse and make sure to "LIKE" our Facebook and Instagram pages!!
Originally posted by Chris Myden @yowdeals.com