There are some amazing airfares available on All Nippon Airways that allow you to visit both Tokyo, Japan and Cambodia for a very low $618.00 CAD roundtrip including taxes.
The initial flight from Edmonton to Tokyo, Japan has 1 stop in Vancouver.
The flight between Tokyo, Japan and Phnom Penh, Cambodia is also included, and is non-stop.
On the way home, there is an all day stop in Tokyo. You arrive at Tokyo's NRT airport in the morning, and then depart from Tokyo's HND airport (close to downtown Tokyo) in the evening.
Availability for travel
October 2016 to April 2017
*November to March is generally considered the best time to visit Cambodia*.
AND...
***Remember Gringos, most legs of these flights are run by the Star Alliance (Air Nippon, Copa, United or Air Canada etc...). There are valuable 
aeroplan
 points to be had from these flights. Learn how to maximize your travels in Gringos On The Run article Affording To 
Travel In Your 20s & 30s.
How to find and book this deal
1. Go to Momondo.ca 
2. Click on the 'Multiple City' option
3. Search for the following: 
Edmonton (YEG) to Tokyo (TYO)
Tokyo (TYO) to Phnom Penh, Cambodia (PNH)
Phnom Penh, Cambodia (PNH) to Edmonton (YEG)
4. As for the dates to use, try...
Tuesday to Thursday to Thursday dates
or
Tuesday to Thursday to Friday dates 
between October 2016 and April 2017.
One or the other may work better, depending on the month. Dates around Christmas are unlikely to be cheap. 
It's worth experimenting with other days of the week to see what might be available.
Not every date combination works, but there seems to be a pretty high number between October 2016 and April 2017 that do.
What if I want to stay longer in Tokyo?
You can try playing around with the middle date, to see what comes up. It seems to usually bump up the price by at least $100.
Screenshot from Momondo.ca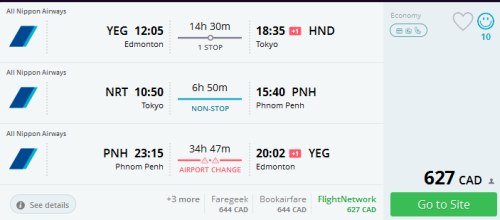 Flight Network promo code
You can bring the price down another $10 CAD once you get to Flight Network by using the promo code: 3P10OFF321
You'll find the spot to enter the promo code on the passenger details page (after you've selected the flight). It can be difficult to find.
Here's a screenshot of where to enter it: (look near the bottom)
http://s17.postimg.org/ee0f9z4v3/Clipboard01.jpg
Curated by Jesse Delgrosse @gringosontherun. Follow Jesse's adventures @jdelgrosse and make sure to "LIKE" our Facebook and Instagram pages!!
Originally posted by Chris Myden @yegdeals.com (Thanks Chris!).