Photo: www.cpp.edu
Icelandair has dropped the price of their fall 2016 flights from Montreal to Paris, France down to $481.00 CAD roundtrip including taxes.
It's also possible to visit *both* Paris and Iceland on the same trip for $10 more.
Icelandair includes 2 free checked bags on their flights.
Availability for travel
September and October 2016
How to find and book this deal
1. Start with this Google Flights search...
Google Flights search: Montreal to Paris, France
2. Click on the departure date box to open up the calendar view and try other dates. 
3. Click through from Google Flights to either the Icelandair website or Flight Network.
Screenshot from Flight Network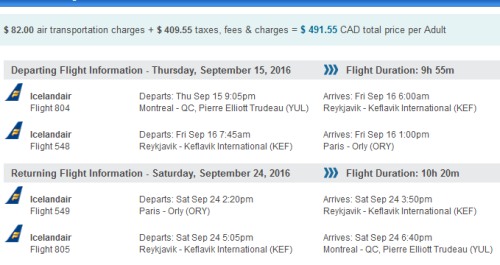 Flight Network promo code
To bring the price down another $10 CAD once you get to Flight Network, use the following promo code: 3P10OFF321
You'll find the spot to enter the promo code on the passenger details page (after you've selected the flight). It can be difficult to find.
Here's a screenshot of where to enter it: (look near the bottom)
http://s17.postimg.org/ee0f9z4v3/Clipboard01.jpg
Flight Network is ranked #6 in the Third Party Booking Site Power Rankings.


You can also book 2-in-1 trips involving both Paris and Iceland for $486 CAD roundtrip including taxes
1. Try a Kayak search like this: 
Kayak search: Montreal to Paris, and then Paris to Iceland, and back to Montreal 
Click on 'Change' to try other dates.
2. Try other date combinations. Here are some other examples that work out to $486 CAD.
Sep 22 to Sep 27 to Oct 4
Sep 27 to Oct 2 to Oct 8
Sep 29 to Oct 4 to Oct 10
Oct 4 to Oct 9 to Oct 15
Oct 6 to Oct 11 to Oct 17
Different combinations of the above dates are likely to work as well. 
3. Click through from Kayak to FlightHub
Screenshot from FlightHub.com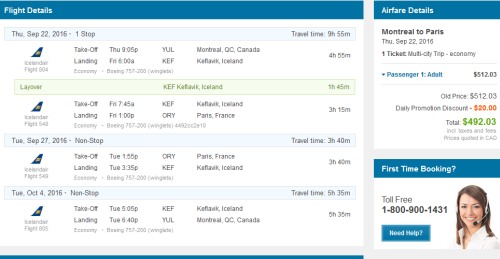 Copenhagen, Denmark instead of Paris for similar prices
You can substitute Copenhagen (CPH) for Paris, and the prices will be similar.
Curated by Jesse Delgrosse @gringosontherun
.

 Follow Jesse's adventures @jdelgrosse and make sure to "LIKE" our Facebook and Instagram pages!!
Originally posted by Chris Myden

 @yuldeals.com