All Nippon Airways (ANA) is currently showing flights from Toronto to Tokyo, Japan for just $688.00 CAD roundtrip including taxes.
There have been even crazier prices to Japan recently, however, it's notable how such a large range of dates are available at this price, from late August 2016 summer travel right through to spring 2017.
***Remember Gringos, most legs of these flights are run by the Star Alliance (Copa, United or Air Canada). There are valuable 
aeroplan
 points to be had from these flights. Learn how to maximize your travels in Gringos On The Run article Affording To 
Travel In Your 20s & 30s.
Availability for travel
[2016] late August, September, October, November
[2017] January, February, March, April
Up to about April 12, 2017 is as far into the future as I've seen this price available.
How to find and book this deal
1. Start with a Google Flights search like this one:
2. Click on the departure date box to open up the calendar view. Browse for cheap flights between August 2016 and April 2017.
Look for the dates that are $765 CAD.
3. Once you've found some dates, go to Momondo.ca
4. Search for a flight from Toronto (YYZ) to Tokyo (HND) using the same dates as you found above.
Be sure to choose Tokyo Haneda Airport (HND) - which is the airport that's close to downtown Tokyo.
5. Click through from Momondo to whichever booking site is showing the cheap price.
If you click through to BookingXpert.ca - you may find that it doesn't work. Clicking through to FlyLink works.
UPDATE - You may also want to try searching on ITravel2000 who is now showing these for $682 CAD roundtrip including taxes, and is a reputable booking site.
You can try starting with this direct ITravel2000 search link. Click on 'Edit Your Search' (top right) to try other dates. Try dates from your Google Flights search above.
Important: When you get to the ITravel2000 search result page, you should click on 'All Nippon Airways - from $682' on the left-hand side
But you still need to click on 'Show details' below the flight, to make sure the overseas flight is not operated by United Airlines (unless that's what you want). Try looking at different departure times for the connecting flight in Chicago to find the overseas flights that are operated by All Nippon Airways.
In this example screenshot from ITravel2000.com we can see that the overseas flights are operated by ANA in both directions...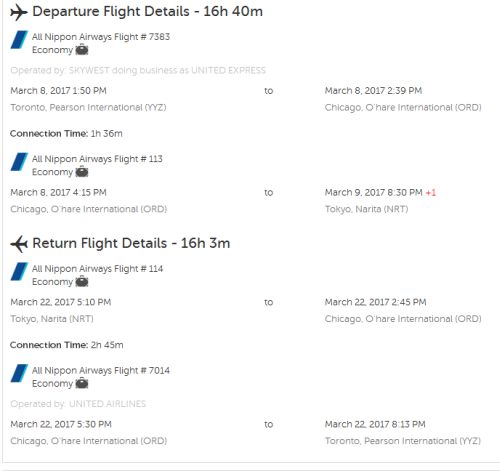 And here's an example where it can *appear* the overseas flights are operated by ANA, but upon closer inspection (clicking 'Show Details') we see they are actually operated by United...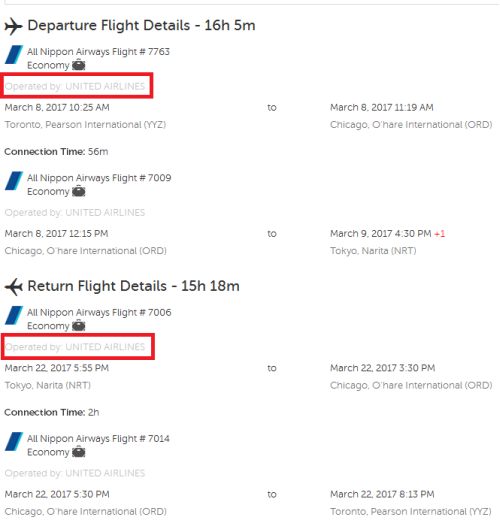 So just watch out for that.
Curated by Jesse Delgrosse
 

@gringosontherun. Follow Jesse's adventures @jdelgrosse and make sure to "LIKE" our Facebook and Instagram pages!!
Originally posted by Chris Myden @yyzdeals.com