United Airlines is showing flights from Montreal to Hong Kong for an astounding $523.00 CAD roundtrip including taxes.
Availability for travel
Certain dates between August and December 2016.
***Remember Gringos, most legs of these flights are run by the Star Alliance (Copa, United or Air Canada). There are valuable 
aeroplan
 points to be had from these flights. Learn how to maximize your travels in Gringos On The Run article Affording To

 
Travel In Your 20s & 30s.
How to find and book this deal
1. Start with this Google Flights search...
Google Flights search: Montreal to Hong Kong
2. Click on the departure date box to open up the calendar view and try other dates 
Try starting with one of the following departure dates:
Aug 31
Sep - almost any date
Oct 1, 13, 14, 16, 17, 20, 21, 22, 23, 24, 25, 26, 27, 28, 29, 30, 31
Nov - almost any date
Dec - almost any date, up to Dec 9
3. Click through from Google Flights to the United website
Screenshot from United Airlines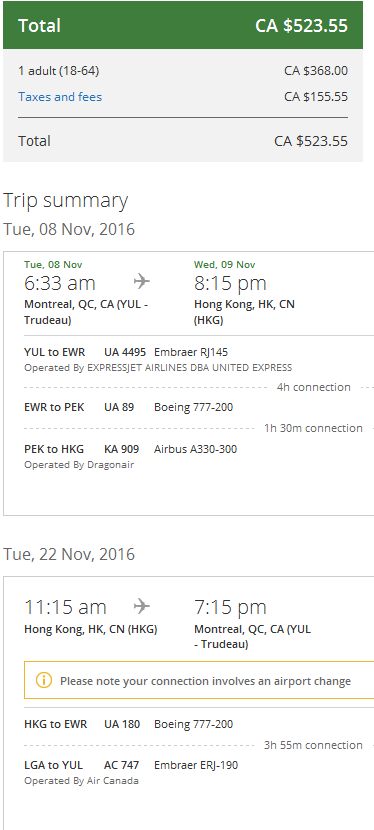 Some people are reporting better luck with booking these through Google Flights when using a mobile device, as opposed to a desktop or laptop.
Curated by Jesse Delgrosse @gringosontherun
.

 Follow Jesse's adventures @jdelgrosse and make sure to "LIKE" our Facebook and Instagram pages!!
Originally posted by Chris Myden

 @yuldeals.com