A number of booking sites are showing flights from Toronto to Auckland with Air New Zealand for as low as $729.00 CAD roundtrip including taxes.
Photo: www.ccbi.ac.nz
It's likely a mistake fare, so keep the expectations low if you book it, and wait at least 48 hours for the dust to settle, and it becomes clear that your booking is confirmed by the airline.
Availability for travel
June and July 2016
How to find and book these flights
1. Try one of the following Kayak searches:
2. Click through from Kayak to whichever 
booking site is showing the cheap price.
So far I've seen them on Travelocity, Expedia, CheapoAir, and FlightHub.
Screenshot from Travelocity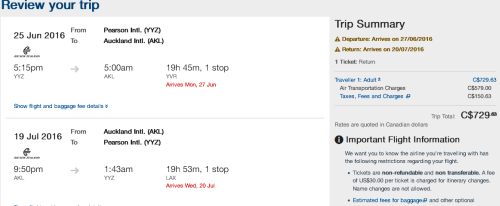 Long trips - from $695 CAD roundtrip including taxes
If you're up for taking a really long trip to New Zealand, there also seems to be flights from June to, say, November 2016 available for $695 CAD roundtrip including taxes.
Example:
1. Try this Kayak search
2. On the Kayak search result, click on the orange 'Select' button and select Expediaas the booking site. It won't work if you click through to the Air New Zealand site.
Click through to Expedia.
Screenshot from Expedia.ca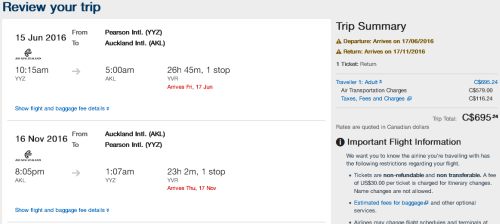 It doesn't have to be November that you return though. When testing it out, you can try changing the return date on Kayak to a date in August, September, October, November, or December 2016, or January, February, March, or April 2017, and you still have a good chance of finding flights for $695 to $729 CAD roundtrip including taxes.
Keep the dates flexible on Kayak when searching. And remember to click through to Expedia, not Air New Zealand, to find this price.
I've also seen similar results when changing the departure date from June 15 to...
May 12, 18, 24, 25, or 26
June 2, 8, or 22
Other cities in New Zealand: Toronto to Christchurch (CHC), Wellington (WLG) , or Queenstown (ZQN) are available for $808 CAD roundtrip including taxes. 
Try substituting these cities on the Kayak searches above. Click through from Kayak to Expedia or FlightHub or CheapoAir.
Screenshot from FlightHub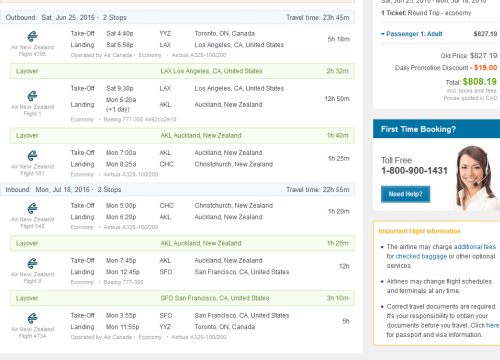 Virtually all destinations in New Zealand seem to be available for this price. Even Nelson (NSN).
Curated by Jesse Delgrosse
 

@gringosontherun. Follow Jesse's adventures @jdelgrosse and make sure to "LIKE" our Facebook and Instagram pages!!
Originally posted by Chris Myden @yyzdeals.com