Air Canada Rouge is selling off some last minute seats to Great Exuma Island, Bahamas (GGT) for $199 CAD roundtrip including taxes.
[2016]
May 29 to June 5 -- new!
June 5 to June 12 -- new!
June 12 to June 19 -- new!
***Remember Gringos, most legs of these flights are run by the Star Alliance (Copa, United or Air Canada). There are valuable 
aeroplan
 points to be had from these flights. Learn how to maximize your travels in Gringos On The Run article Affording To 
Travel In Your 20s & 30s.
Update #3: May 5 @ 8:34 AM EST - June dates have now dropped to $199 CAD roundtrip including taxes.
These are also available through Flight Network for $188 CAD roundtrip including taxes
1. Go to FlightNetwork 
2. Search for a flight from Toronto (YYZ) to Georgetown, Great Exuma (GGT)
Use the same dates as shown above.
3. The search may initially come up as $248 CAD. It will drop to $199 when you click through to the next screen.
4. You can bring the price down another $10 CAD once you get to Flight Network by using the promo code: 3P10OFF321
You'll find the spot to enter the promo code on the passenger details page (after you've selected the flight). It can be difficult to find.
Here's a screenshot of where to enter it: (look near the bottom)
http://s17.postimg.org/ee0f9z4v3/Clipboard01.jpg
Screenshot from FlightNetwork.com (before the $10 promo code is applied)

Flight Network is ranked #6 in the Third Party Booking Site Power Rankings.
Yes, this is the home of the swimming pigs.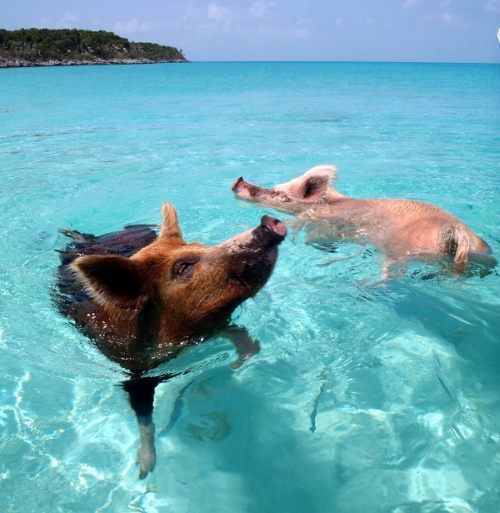 But where to stay on Great Exuma that won't break the bank?
Historically, the problem with these super cheap flights to this beautiful island in the Bahamas has always been that Great Exuma Island is pretty exclusive, and reasonably priced accommodations are difficult to find. 
AirBNB Great Exuma Island - 8 listings for under $150 CAD per night
There's actually even a few in the $70s and $80s, but with no reviews.
You could also try VRBO, which is showing 3 properties for under $120 USD/night. Just run a search for Great Exuma when you get there. After you hit Search you can apply the price filter.
Curated by Jesse Delgrosse
 

@gringosontherun. Follow Jesse's adventures @jdelgrosse and make sure to "LIKE" our Facebook and Instagram pages!!
Originally posted by Chris Myden @yyzdeals.com