The American Airlines website is showing a possible glitch involving codeshare flights with British Airways between Montreal and Europe.
The Premium Economy class flights are being priced the same as Economy class, which is unusual.
It's pretty common for the Premium Economy flights to run $1200-$1500 roundtrip or more. You can read more about flying Premium Economy with British Airways here.
Another interesting aspect is that dates around late December and over New Years may be available to certain destinations. 
You can also upgrade from Premium Economy to Business Class for 12,500 AA miles each way.
Availability for travel
Late October 2016 to January 2017. Since it's the off-season, you may want to focus on Southern Europe (warmer).
How to find and book this deal
1. Start with one of these Google Flights searches...
Montreal to Madrid, Spain - $682
Montreal to Naples, Italy - $688
Montreal to Malaga, Spain - $670
Montreal to Venice, Italy - $689
Montreal to Turin, Italy - $691
Montreal to Bologna, Italy - $703
Montreal to Pisa, Italy - $735
Montreal to Tenerife, Spain (Canary Islands) - $813
Montreal to Palma (Mallorca), Spain - $831
Montreal to Granada, Spain - $851
Montreal to Munich, Germany - $867
Montreal to Zagreb, Croatia - $889
2. Click on the departure date box to open up the calendar view and try other dates.
3. Click through from Google Flights to the American Airlines website. 
4. Click on 'Show Trip Details'

5. The key is to look for flights where the booking code is 'W' between Montreal and London (LHR). These are the Premium Economy flights.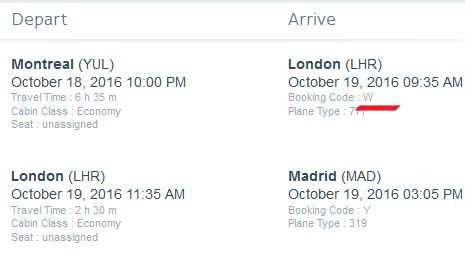 ***As you book, you may want to take screenshots to prove that you paid for Premium Economy (W).***
Curated by Jesse Delgrosse @gringosontherun
.

Follow Jesse's adventures @jdelgrosse and make sure to "LIKE" our Facebook and Instagram pages!!
Originally posted by Chris Myden

@yuldeals.com