Delta is showing flights from Winnipeg to Rio de Janeiro, Brazil for $680.00 CAD roundtrip including taxes, for travel in July 2016.
This is a new record for the cheapest flights from Winnipeg to Rio de Janeiro. 
But what makes this deal even more interesting is that Brazil is waiving the visa requirement for tourists visiting between June 1 and September 18, 2016, due to the Summer Olympics.
Normally, an expensive visa is required to visit Brazil, and can take a while to get. During the June-September exemption period, a valid Canadian passport will be the only document required to visit Brazil.
This could be a rare opportunity to take advantage of historically low airfares to Rio de Janeiro, without having to worry about getting a visa in time.
A ticket to the Olympic games is not required for the visa-free entry.
How to find and book these flights.
1. Find cheap date combinations with Google Flights using a search like this...
Google Flights search: Winnipeg to Rio de Janeiro, Brazil
(click the departure date box to open up the calendar and explore other dates)
July 7 and 14 are good departure dates to start with.
2. Once you've found some cheap dates on Google Flights, try searching for the same dates on FlightNetwork.com
3. Use the Flight Network promo code to take off another $10. (see below) 
Screenshot from FlightNetwork.com (before the promo code is applied)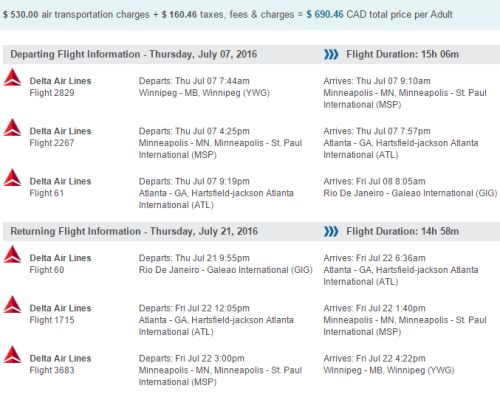 4. You can bring the price down another $10 CAD once you get to Flight Network by using the promo code: 3P10OFF321 
You'll find the spot to enter the promo code on the passenger details page (after you've selected the flight). It can be difficult to find.
Here's a screenshot of where to enter it: (look near the bottom)
http://s17.postimg.org/ee0f9z4v3/Clipboard01.jpg
Flight Network is ranked #6 in the Third Party Booking Site Power Rankings.
Important visa info for anyone traveling to Brazil outside the visa exemption period
Canadians (normally) require a visa to visit Brazil. It costs $95. Details on how to apply for and obtain one from the consulate in Vancouver can be found here.
Curated by Jesse Delgrosse @gringosontherun. Follow Jesse's adventures @jdelgrosse and make sure to "LIKE" our Facebook and Instagram pages!!
Originally posted by Chris Myden @ywgdeals.com