Photo: digital.fespa.com
Air Transat is showing one flight from Calgary to Amsterdam, Netherlands in June 2016 for $682 CAD roundtrip including taxes.
This is about 30% below the typical best prices on this route. 
The flight is non-stop on the way there, but has a 2 hour stop in Toronto on the way home.
How to find and book this deal
2. Search for a flight from Calgary (YYC) to Amsterdam (AMS)
3. Try one of the following date combinations:
May 23 to June 14
May 30 to June 14
June 6 to June 14
Screenshot from FlightNetwork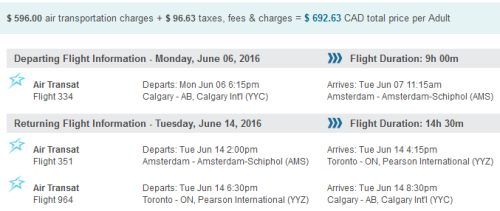 Flight Network Promo Code 
4. You can bring the price down another $10 CAD once you get to Flight Network by using the promo code: 3P10OFF321
You'll find the spot to enter the promo code on the passenger details page (after you've selected the flight). It can be difficult to find.
Here's a screenshot of where to enter it: (look near the bottom)
http://s17.postimg.org/ee0f9z4v3/Clipboard01.jpg
Curated by Jesse Delgrosse @gringosontherun. Follow Jesse's adventures @jdelgrosse and make sure to "LIKE" our Facebook and Instagram pages!!
Originally posted by Chris Myden @yycdeals.com