Similar to the deal yesterday to Mexico City, Aeromexico has now dropped the price of their roundtrip flights from Toronto to Cancun, Mexico down to $323 CAD roundtrip including taxes. This is a great way to get into Central America and head south to Places like Caye Caulker, Belize (6 hours south by bus and boat).
The flights have 1 stop each way (in Mexico City), with a reasonable layover time (2 hours).
Availability for travel
April, May, and June 2016
Remember Gringos, most legs of these flights are run by the Star Alliance (United or Air Canada). There are valuable aeroplan points to be had from these flights. Learn how to maximize your travels in Gringos On The Run article Affording To Travel In Your 20s & 30s.
How to find and book these flights
1. Try a Google Flights search like this one: 
2. Click on the departure date box to bring up the calendar view and try other dates.
3. There are a few different ways you can book these:
However, it seems to always default to booking in $USD when you do this. The price will show up as $245 USD roundtrip. 
You may want to try going to the Aeromexico website directly, and clicking on 'United States - English' in the top left corner, and changing it to 'Canada - English'. 
Now try searching for the same dates, and the prices should show up in $CAD.
b. You can also try taking the same dates you found on Google Flights, and searching for this fare on Expedia.ca - who are showing it for $323 CAD roundtrip.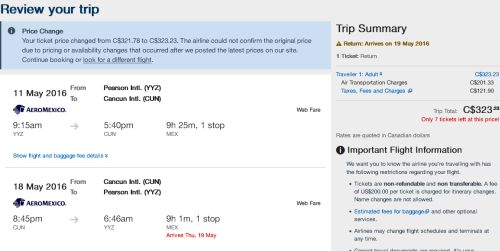 Curated by Jesse Delgrosse @gringosontherun. Follow Jesse's adventures @jdelgrosse. Make sure to "LIKE" our Facebook page and follow us Instagram. Feel free to tag us in all your Gringo adventures.
Originally posted by Chris Myden @yyzdeals.com