Aeromexico has dropped the price of their non-stop direct flights from Toronto to Mexico City down to $373.00 CAD Roundtrip - Including Taxes.
Availability for travel 
April, May, and June 2016
How to find and book these flights
1. Try a Google Flights search like this one:
2. Click on the departure date box to bring up the calendar view and try other dates. 
3. Go to Expedia.ca and search for a flight from Toronto (YYZ) to Mexico City (MEX)
Use the same dates as you found with Google Flights.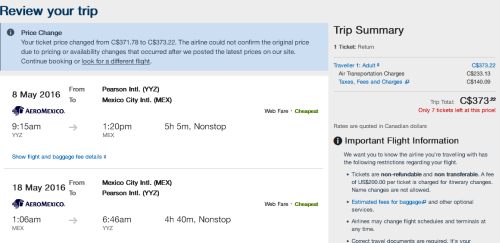 Adding a free stop in Cancun
It's also possible to add a free stop in Cancun (for multiple days), either on your way to Mexico City, or on the way back home.
Here's how: 
2. Click on 'Trip Type' and change it to 'Multiple Destinations' 
3. Search for a flight from:
Toronto to Mexico City (MEX)
Mexico City (MEX) to Cancun (CUN)
Cancun (CUN) or Toronto 
Alternatively, you can try: 
Toronto to Cancun (CUN)
Cancun to Mexico City (MEX)
Mexico City (MEX) to Toronto
As for the dates to use, try to use dates that are similar to what you found on Google Flights above, when you searched for a regular roundtrip flight. 
For example, if Google Flights is showing May 8 to May 18 as a cheap roundtrip flight, try May 8 to May 11 to May 18.
Here's a screenshot of what the search would look like on Momondo.ca

and here's a screenshot of the price result:

4. Click through from Momondo.ca to whichever third party booking site is showing the cheap price.
Curated by Jesse Delgrosse @gringosontherun. Follow Jesse's adventures @jdelgrosse. Make sure to "LIKE" our Facebook page and follow us Instagram. Feel free to tag us in all your Gringo adventures.
Originally posted by Chris Myden @yyzdeals.com