Flights from Montreal to San Francisco, California have dropped to $358.00 CAD roundtrip including taxes on Delta airlines
The flights do have one stop each way either in Detroit or New York.
Availability for travel
April to mid May 2016
How to find and book this deal
2. Search for a flight from Montreal (YUL) to San Francisco (SFO)
3. Try one of the following date combinations:
Departure dates:
April 12, 13, 19, 20, 26, 27
May 3, 4, 10 
Return dates:
April 19, 20, 26, 27
May 3, 4, 10, 11, 17
4. You can bring the price down another $10.00 CAD once you get to Flight Network by using promo code: 3P10OFF321 
***You'll find the spot to enter the promo code on the passenger details page (after you've selected the flight). It can be difficult to find.***
Here's a screenshot of where to enter it: (look near the bottom)
http://s17.postimg.org/ee0f9z4v3/Clipboard01.jpg
Screenshot from FlightNetwork.com (before the $10 promo code is applied)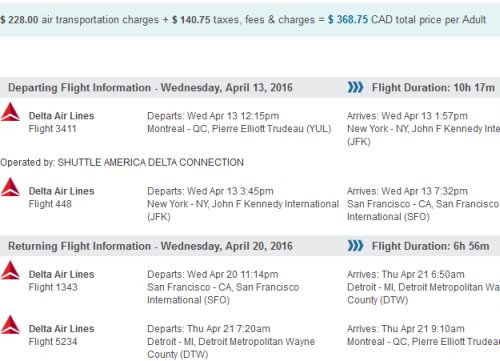 Curated by Jesse Delgrosse @gringosontherun. Follow Jesse's adventures @jdelgrosse. Make sure to "LIKE" our Facebook page and follow us Instagram. Feel free to tag us in all your Gringo adventures.
Originally posted by Chris Myden @yvrdeals.com. Thanks Chris!