There are flights available from Edmonton to San Jose, Costa Rica on Delta airlines for as little as $360.00 CAD roundtrip including taxes. 
This is actually eclipses the insane price drop event to Costa Rica of nearly 5 years ago, when prices dropped to similar levels.
Availability for travel
Late April to mid May 2016.
How to find and book this deal
1. Start with a Google Flights search like this one...
Google Flights search: Edmonton to San Jose, Costa Rica
Click on the departure date box to open up the calendar view and try other dates.
Look for date combinations that work out to $371 CAD roundtrip including taxes.
Try flights departing on April 25 or 26, or May 7.
There's also a large variety of other dates in May in the low $400s. 
You can either click through from Google Flights to Delta.com to book at this price, or bring the price down a little further by...
...and searching for a flight from Edmonton (YEG) to San Jose, Costa Rica (SJO)
Use the same dates as you found with Google Flights above.
3. You can bring the price down another $10 CAD once you get to Flight Network by using the promo code: 3P10OFF321
You'll find the spot to enter the promo code on the passenger details page (after you've selected the flight). It can be difficult to find.
Here's a screenshot of where to enter it: (look near the bottom)
http://s17.postimg.org/ee0f9z4v3/Clipboard01.jpg
Screenshot from FlightNetwork.com (before the $10 promo code is applied)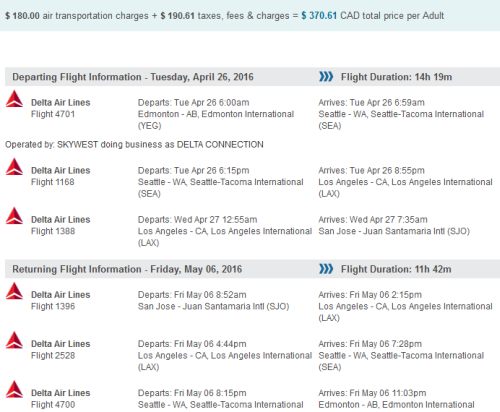 Curated by Jesse Delgrosse @gringosontherun. Follow Jesse's adventures @jdelgrosse. Make sure to "LIKE" our Facebook page and follow us Instagram. Feel free to tag us in all your Gringo adventures.
Originally posted by Chris Myden @yegdeals.com