There are some flights in late April 2016 from Vancouver to Kauai, Hawaii for $306 CAD roundtrip including taxes.
Remember Gringos, half of these flight legs are run by the Star Alliance (United or Air Canada). There are valuable aeroplan points to be had from these flights. Learn how to maximize your travels in Gringos On The Run article Affording To Travel In Your 20s & 30s.
It's not as common to see cheap flights from Vancouver to Kauai (LIH) as it is to Honolulu or Maui.
On some dates, the flights are non-stop on the way there, using WestJet, and then use Hawaiian Airlines and United on the way back, with stops in Honolulu and San Francisco. 
This is a new record for the cheapest flights between Vancouver and Kauai. The previous record was $335 CAD roundtrip, when they dropped 2 years ago. 
I had the opportunity to visit Kauai at a similar time of year (late April) a few years ago. It was a good time of year to visit, because the whales were still around (but getting ready to leave) and it's one of the drier times of the year (Kauai has a lot of rainy months). 
Kauai is a true paradise. It's the most laid back of the Hawaiian islands, with some great hikes, including the incredibly scenic Na Pali coast.
Availability for travel
April 2016 
How to find and book these flights
1. Try a search like this one using Google Flights....
Google Flights search: Vancouver to Kauai, Hawaii
2. Click on the departure date box to open up the calendar view. Look for date combinations that work out to $312 CAD roundtrip.
3. Click through from Google Flights to the United website for booking.
Screenshot from United.com: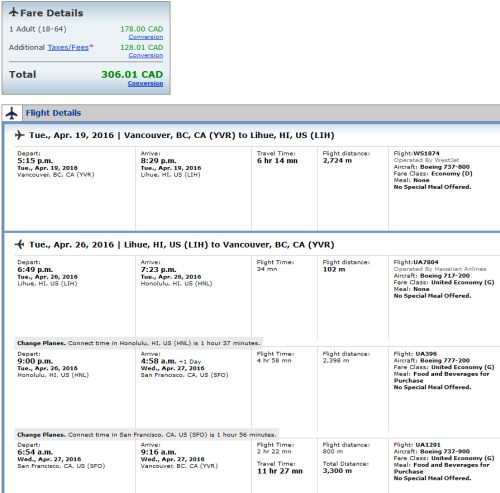 Even though the booking is made through the United Airlines website, the flight on the way there is operated by WestJet, assuming it's a non-stop flight.
Curated by Jesse Delgrosse @gringosontherun. Follow Jesse's adventures @jdelgrosse. Make sure to "LIKE" our Facebook page and follow us Instagram. Feel free to tag us in all your Gringo adventures.
Originally posted by Chris Myden @yvrdeals.com