Availability for travel
Mid April to mid May 2016 and mid October to early November 2016.
How to find and book these flights
1. Go to FlightHub.com
2. Search for a flight from Vancouver to Rome, Italy (FCO).
Try the following example dates:
(for longer trips, you can try mixing and matching the departure and return dates from the list below)
April 11 to April 21 -- $720, 18h there, 14h back
April 26 to May 4 or 11 -- $702, 13h there, 15h back (may only be 1 seat left)
Oct 17 or 18 to Oct 27 -- $678, 13h there, 15h back
Oct 24 or 25 to Nov 3 -- $677, 18h there, 13h back
Things to watch out for
- The first search result on FlightHub is not always your best flight option. Sometimes the best / fastest flight is way down the page. Look for flights that are still in the $600s and low $700s, but with a travel duration of 15-18 hours. In some cases, a 1-stop flight may only be $3 more than a 2-stop flight!
IMPORTANT: Some of these flights may involve transferring yourself from London Heathrow to London Gatwick during the 5.5 hour layover on the way there. You also need to collect your luggage at Heathrow and take it with you to Gatwick.
Screenshot from FlightHub.com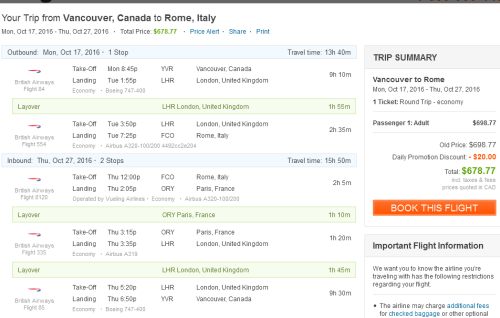 Where to stay in Rome?
The map below will show you some great deals on AirBNB accommodations in an ideal location in Rome for under $99 CAD/night for 2 people.
 Originally posted on @yvrdeals.com